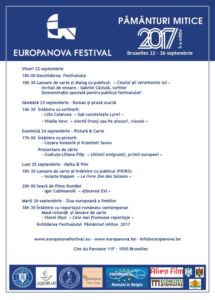 Since its first edition in September 2013, the EuropaNova Festival has proposed to celebrate European Day of Languages (26 September), drawing the attention of expatriates or natives of Brussels to the languages and cultures of Central, Eastern and Balkan Europe with a special emphasis on Romanian language and culture.
The various events at the 5th edition of the EuropaNova festival took place near the European Parliament, in the EuropaNova cultural area from September 22nd to September 26th.
EuorpaNova, Clos du Parnasse 11E, 1050 Bruxelles.
Read more on the festival website…