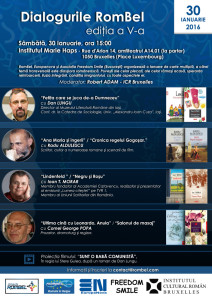 Dear friends and romanian-speaking sympathizers of EuropaNova,
You are warmly invited to an exceptional literary marathon which will take place on Saturday, January 30 from 15:00 in the amphitheater A14.01 (Institut libre Marie Haps, Rue d'Arlon, 14, 1050 Brussels) with 4 romanian writers – Dan Lungu, Radu Aldulescu, Ioan T. Morar and Cornel George Popa). The literary meeting will be followed by the screening of the film "Sunt o baba comunista" (2013 – director Stere Gulea).
Waiting to meet you there !