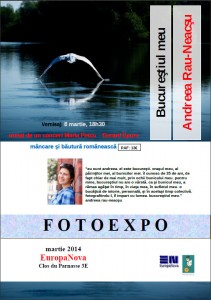 My Bucharest.
I'm Andreea. It's Bucharest. My city, of my parents, my grandparents. I know her for 35 years, in fact even more, through the eyes of my grandfather.
For me, Bucharest has no age. As for my grandfather, she remains hanging in time, in my life, my soul. A piece of history, personal and collective simultaneously.
Photographed to be shared with the world.
Andreea Rau Neacşu
followed by
Music of the Heart
Maria Petcu – Gerard Epure
Voice – Guitar
March 8, 6:30 p.m.
Fee: € 13
Romanian food and drink