« JE SUIS UN HOMME VIVANT (I AM A LIVING MAN) »
Multilingual literary evening dedicated to the Romanian poet Nichita Stănescu
Opening of an anniversary exhibition
Tuesday 2 April 2013 at 18.30
EUROPA NOVA Bookstore – 3E, Clos du Parnasse, 1050-Brussels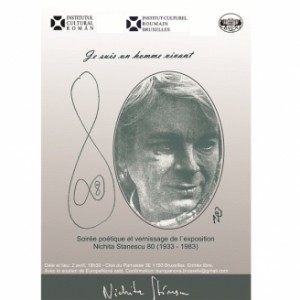 Nichita Stănescu 's (1933-1983) talent erupted like a volcano, whose magnificence is strongly felt in his poems. He pushed the boundaries of Romanian poetry even further, constantly remodelling the language into a fertile ground for future generations of writers.
Under the influence of this explosive literary earthquake Romania experienced an unprecedented renewal in literature and poetry. It was then high time that Romanian letters should reinvent themselves. And he was the one who triggered the spark: for several decades we have been discovering his lines with ever greater eagerness and enchantment. His contemporaries were lucky enough to read his poems while he was still alive – some met him in person, getting to know better the work, but most importantly perhaps, the man behind it. Generations of writers, past and future, will always feel the legacy of a liberating voice which has been recorded on film and sound material, his words and many aphorisms forever engraved in the collective mind.
Within a few decades Nichita Stănescu has "re-sculpted" the Romanian poetic language such as a craftsman chiselling stone into a work of art of unexpected beauty, fluid and smooth.
Other poets have followed his lead without falling into mere imitation but rather, experimenting with language boundaries like he did.
Andrei-Paul Corescu, poet and translator
photo: Mircia Dumitrescu (Grafician)